Laughing Buddha: Hold and Win – Spin your way to riches!
There will be no need to feel like a hermit, as we will take you on a wonderful odyssey to the Far East. We have been working hard in the studio, and can't wait to share with you the new Laughing Buddha Hold and Win slot, our second Spinza original.
Boasting plenty of unique features as well as bonus games, we have given Laughing Buddha a modern makeover for its glorious release this year, and we are sure you will be drawn to it in the same way we are.
The theme is very distinct, and we hope that when you take the plunge into our magical kingdom, your path will be paved in gold. With Laughing Buddha Hold and Win, we have once more provided our own twist on the classic Hold and Win style slots.
We have plenty of slot titles that we are itching to release, and we are sure you will love what we have done with Laughing Buddha. So, let's get to it and explore the nooks and crannies of this brilliant slot.
Plotting the path to success
The laughing Buddha is emblematic of wealth and good luck, and we want to project those ideals when you play the game. The slot incorporates an Asian theme and, as you may expect, involves travelling to the Far East, and paying a visit to the temple.
Our team have made some tweaks to give this slot a fresh look for its grand release, and we're sure you'll find yourself humming our catchy jingles too. With vibrant graphics accompanying it, you will see why Laughing Buddha Hold and Win is such a winner!
From a glance, Spinza's Laughing Buddha slot is played along 3 reels and 5 rows. It also has 25 new and improved paylines, which is considerably more than what we started with in our famous Wild West adventure Golden Gunslinger – which contains 5 paylines.
In the next section, we will get to grips with the style of the slot, and look at the rules. Are you ready for some imperial entertainment?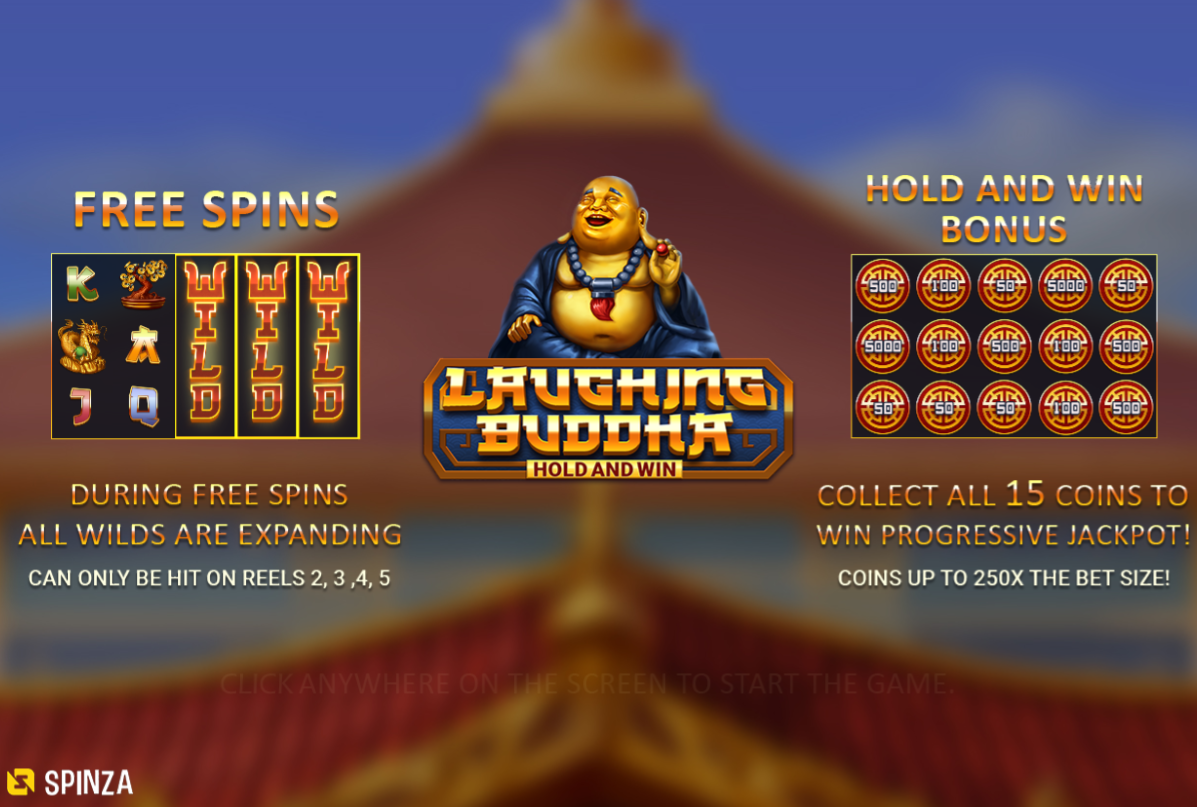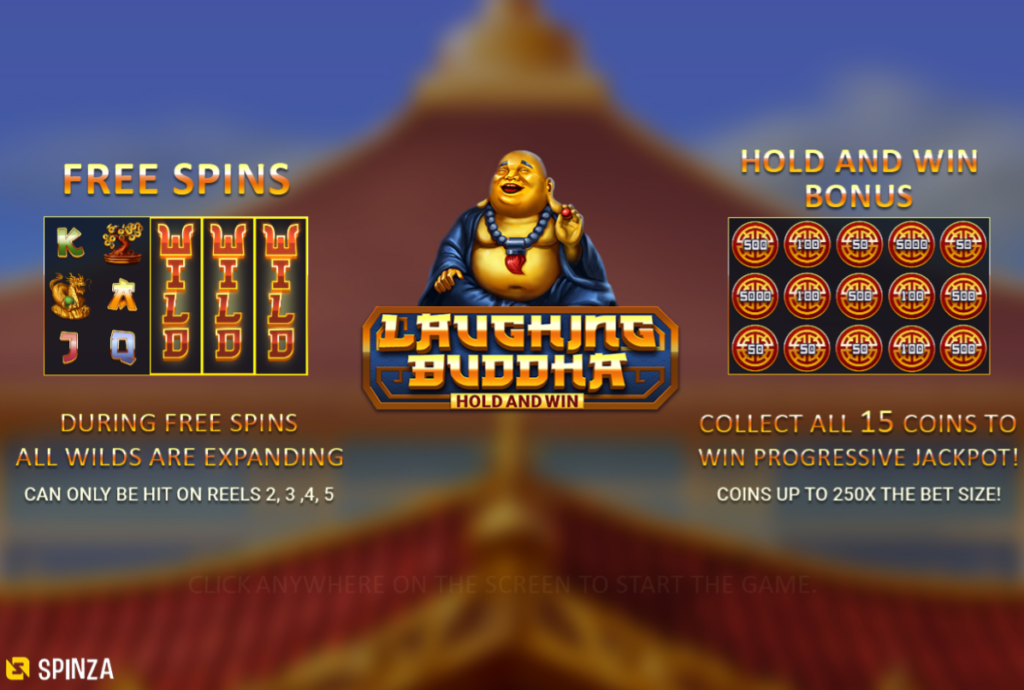 Unlocking the Main Game
As mentioned previously, this slot contains 3 reels and 5 rows, and we have provided our own take on the classic Hold and Win style of slot. When you enter the main protagonist's realm of prosperity, you will be sent to a mystical world, and there is plenty to keep you entertained throughout your trip.
Your mission, should you choose to accept it, will be to accumulate as many gold coins as possible. As you will discover later on, free spins are waiting to be snapped up, and if you can land the golden prosperity symbols on offer, then you will be well on your way to boosting your bankroll!
In terms of RTP (Return to Player), this will make you take notice. The RTP stands at 96%, which is higher than most other slots and lets you pick up higher wins. However, your main focus should be on securing that lucrative progressive grand jackpot.
Bonus Game – Show us what you got!
In Laughing Buddha Hold and Win, you will be presented with two bonus options – Free Spins, or the popular Hold and Win feature. If you can unlock the Hold and Win bonus, then you will be taking a significant step towards getting your hands on the precious jackpot. To do this, you will need to collect the Golden Coins, and 15 is the magic number here.
We have left no stone unturned with Spinza's Laughing Buddha slot, so just spin the reels, and see what happens next.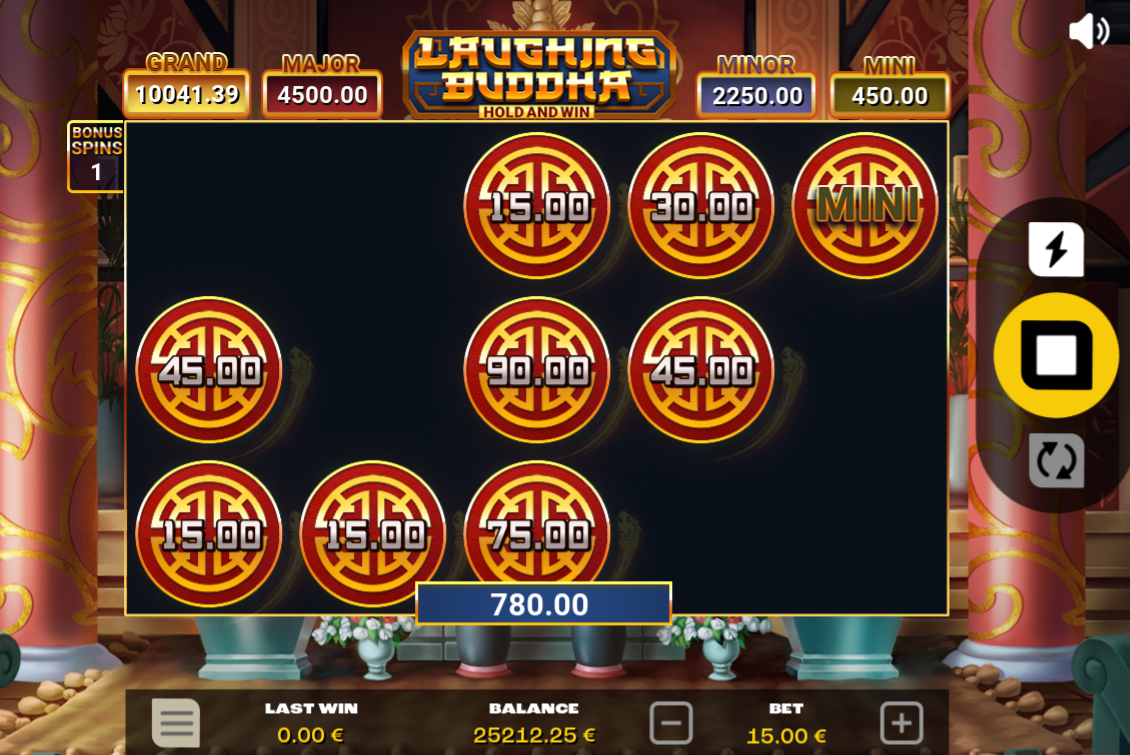 Free Spins – Snap them up!
Who doesn't enjoy receiving free spins? This player favourite has been cleverly incorporated in Spinza's Asian adventure, so remember, if you land three or more Temple symbols, this will trigger the free spins mode.
With the free spins feature, which is one of the selling points of the slot, all of the eponymous Laughing Buddha symbols morph into expanding wilds. This is a very aesthetically pleasing feature, and we think it will catch your eye too.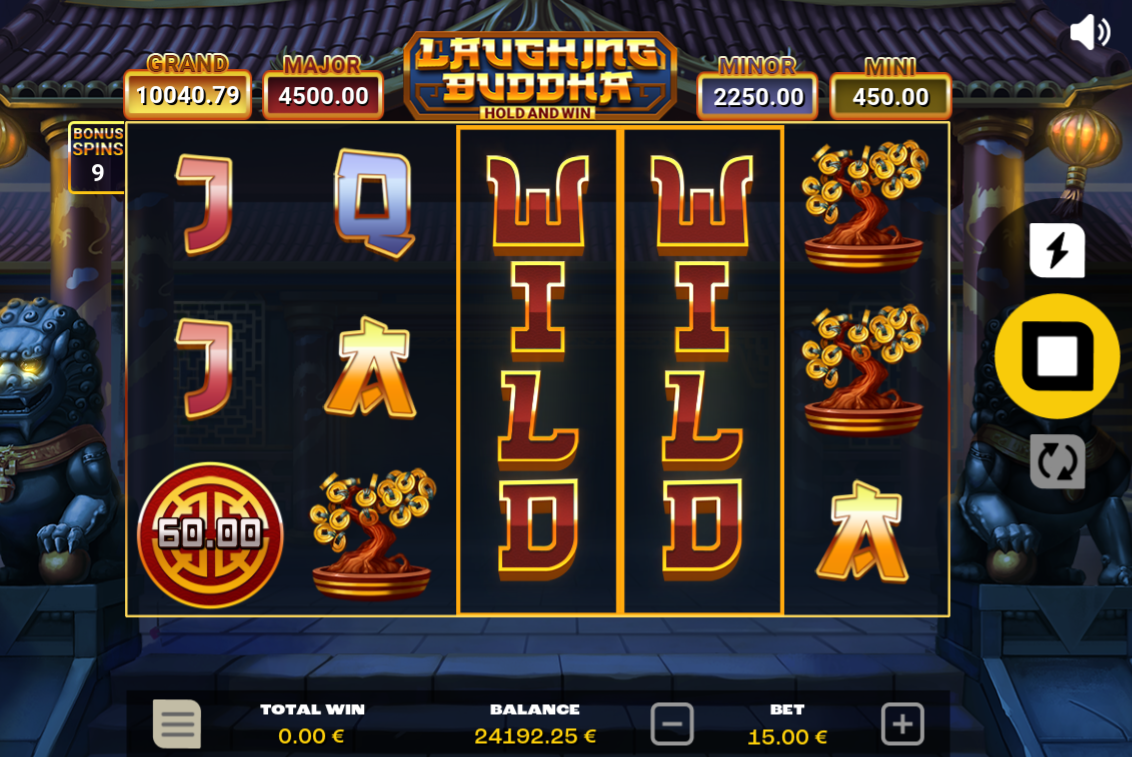 Hit the Jackpot
Oh, and we probably ought to have a quick word about the jackpot sizes. Like most of our latest and most innovative slot titles, the progressive jackpots vary in size, and they are split into four categories.
Starting with the Mini Jackpot, you could win up to 30x your stake amount, whereas the Minor will pay up to 150x your stake. If you can get your hands on the Major Jackpot size, then you will walk away with winnings equivalent to 300x your original stake amount.
And remember: grabbing those golden coins is vital. Landing 15 of them will bring into play the grand jackpot, something to truly feast your eyes on.
Laughing Buddha Hold and Win will provide hours of fun, and we can't wait to see what you think. May the laughing Buddha smile on you in this atmospheric second release by slots specialists Spinza!